Ta Da!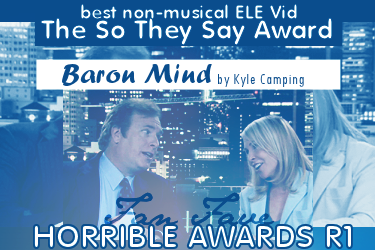 Thank you, thank you everybody. As you can see from the above banner, Baron Mind was awarded the Fan Fave Horrible Award. I speak for Oach and myself when I say that we're blown away at the amount of support you guys have given us. I want to give every one of you a high-five.
But seriously, I'll take this opportunity to thank everyone that voted for us, both real and imaginary. I would like to thank people who ignored the pleas of the website itself and voted multiple times. And I would especially like to thank the people who didn't even know they voted because someone had just put down their name and email address without their knowledge. You're all very special people.
As far as the judging awards go, things went rather less well than we would have liked. We finished out of the top three. I'm not sure how far out of the top three, but it hardly matters. I'm not going to let it bruise my ego too much, and will offer my congratulations to the videos that nabbed those spots. Check them out, in order of winningness:
Winner
First Runner Up
Second Runner Up
THE GRIMMARIAN!
from
Kendal Newman
on
Vimeo
.
.
Thanks again,
Rev