Ok, I have a few bits of business to get through today, so let's get moving. First, my birthday was on Friday.
Hooray! It was a fantastic time, made extra special by a present scavenger hunt, a conspiracy of gift giving, and a dinner at Dinosaur BBQ, which you'll see in a little bit. Also awesome was this picture, which I found set as my desktop background on my work computer:
Courtesy of the crazily talented Woot.
I love that picture. The Baron looks so pissed off... the ducky cake that he obviously baked himself... how is the brain blowing that party favor... it's all wonderful.
On to Dinosaur BBQ - a great dinner with ribs and close friends who I am insanely lucky to have in my life. Thank you all:
Also, they were willing to wear silly pirate masks in public in honor of the event. True Friendship. Here's Subastar trying to give me mine:
Why in God's name is there an eyehole cut into the eyepatch section of the mask?
After dinner, there was a bit of bar visiting and general silliness, of course.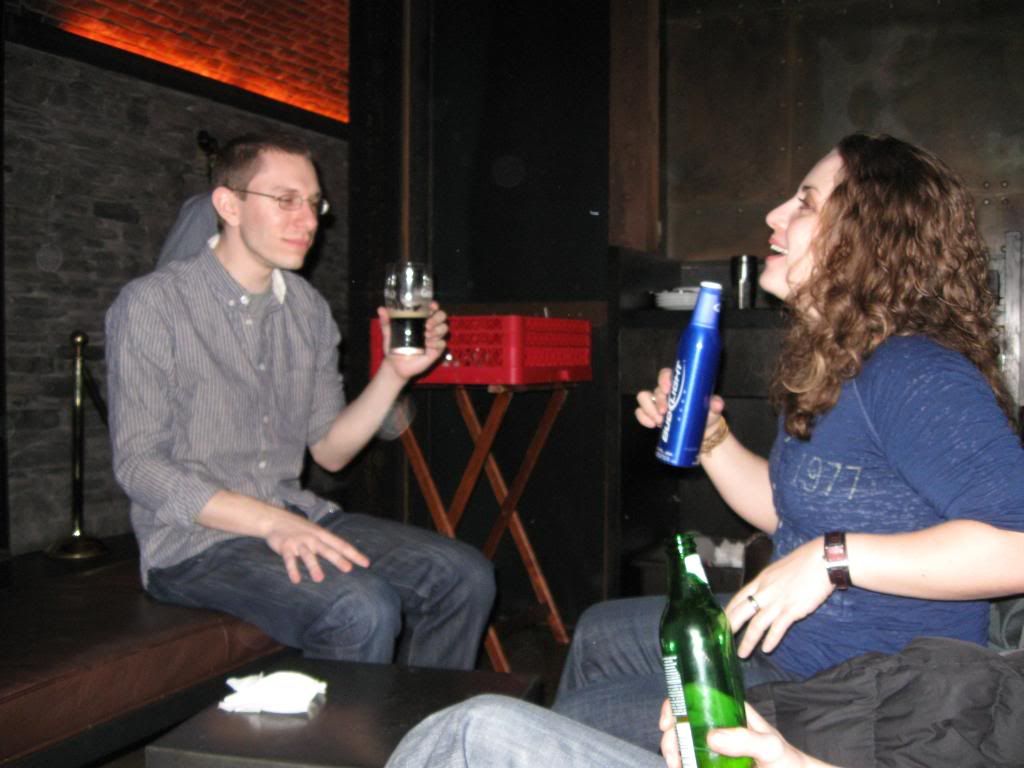 Oach and Sandstone sharing a laugh.
Here's Subastar and Woot sharing a moment.
And then there's this: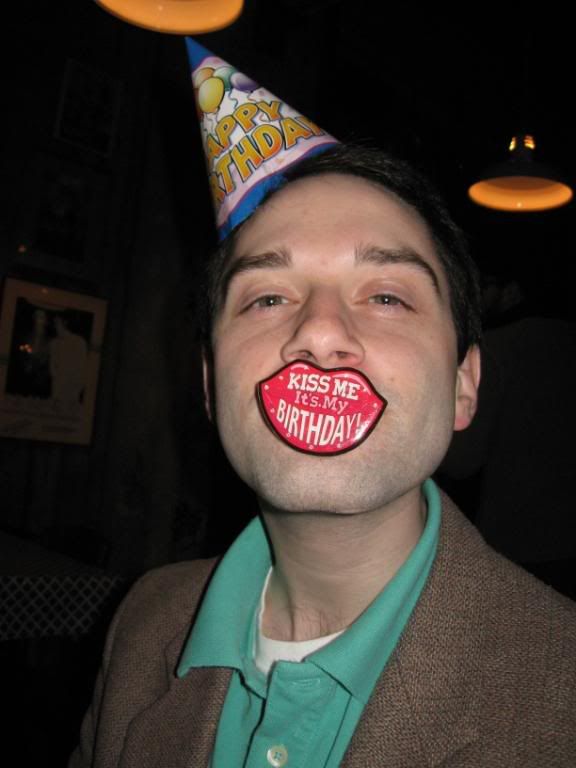 So yes, thank you to all my friends and well-wishers. I had a great time that I will remember forever.
Which brings us to St. Patrick's Day. Hooray! Enjoy the parade, everyone who is both in NYC and can get out of work to see it. Sadly I don't qualify, so I just have to wear a green shirt and a wistful expression.
Along those lines, let me also express a heartfelt DIE AND ROT LIKE PIGS IN HELL to McDonald's restaurants.
Dick.
Once again, I am forced to endure a month of March devoid of Shamrock shakes and it's because of you. Why you would deprive 8 million people of minty goodness is absolutely beyond me, but it also makes me wish I could shoot blood out of my eyes like a horned toad. You better believe that if I could, I would visit every McDonald's in the NYC region, order a Shamrock shake, and then when the counterperson looks at me in stupified silence, I would scream and then HERE COMES THE EYE BLOOD.
Let's get gene splicing, boys.
I don't know exactly what the reaction to that would be, but I would love to find out.
And So, I must do as I have in the past, and re-post my own recipe for home-made shamrock shakes. Please note, this recipe works best if you're already late for a party.
REV'S AWESOME BOOZY SHAMROCK SHAKES
1 bottle Baileys Mint Chocolate Irish Cream
1 half gallon vanilla ice cream
1 half gallon milk
mint extract (to taste)
green food coloring
serves: several party guests or one morbidly obese mint-prone alcoholic
instructions:
Make sure you have Rev, O'Morchison and a Redheaded Irish Lass on hand.
1) Combine two scoops ice cream, two glugs Baileys, a splash of milk, a capful of mint extract (to taste) and several drops green food coloring in a blender
2) Blend.
3) R: Does this taste good? M: Yeah fine, we're late and I just got a text message R: fine, let's put it in the cooler M: What the...? R: Oh... Oh... OhGodOhGod it's everywhere, quick get paper towels M: It's leaking all over! R: Is the pitcher thingy cracked? M: I don't think so... R: Here, mop it up with this M: Do we have more paper towels? R: I don't see any RIL: Here's a napkin from subway... M: Screw it, grab all the ingredients, we'll just make it there R: (string of expletives) M: Wait, wait... the base wasn't screwed in tight... I think I fixed it... R: Seriously? M: Oh God, it's dripping down between the counter and the stove RIL: Hm. At least it's milk based so you have the smell to look forward to. R: Ok, let's pour this in the cooler and keep going, I think it's better now.
Repeat steps 1 & 2
I've actually lost my train of thought now, so I'll put this one out as is. Peace out.
Rev