So here's an inspiring true story of luck, inspiration and redundancy. The date, March 17th, 2009. Four days had passed since my birthday and two since the Ides. Both dates brought with them a refreshing lack of stabbings, and I was hoping my good fortune would continue on St. Patrick's Day.
Oh come on, this happened ONCE. Let it go.
But work came and went without incident, and I was even able to grab a pint at lunchtime and watch some of the parade on the TV. Good times. After that I zipped up to the
Upright Citizens Brigade
Office to submit sketches of mine in order to be placed on a Maude Team. This would allow me to help put together a monthly sketch show at the UCB theater, so keep your fingers crossed that they like my stuff!
I could use this blog to whore myself even more!
Having submitted my envelope and gone back to the street, I remembered to call up Subastar, because I was going to meet up with her and Woot after work, possibly for ice cream. So yes, I called her and... no answer. Hmph. Not wanting to go home, and also hoping to avoid the subway/lack of signal, I decided I'd wait for her to return my call, and go in search of mischief.
The bars were teeming with revelers as I meandered down Broadway from 30th Street. Eventually I found myself at Madison Square Park. My phone was still maintaining its icy silence. I figured, hey, this'll be a pretty good place to spend some time. There's plenty of benches, two fountains, and a dog run. I can easily kill a half an hour or so. Hell I could just chill out by the big statue of William H. Seward if I had to. He's a cool dude.
"Take a look at this pimp chair and call it a 'folly' now, bitches."
It was about this time that I noticed a small group of people near the building known as The Shake Shack. I was immediately intrigued. Could it be open? Might I be only moments away from frozen custard, or a frozen custard based shake? I would have to investigate.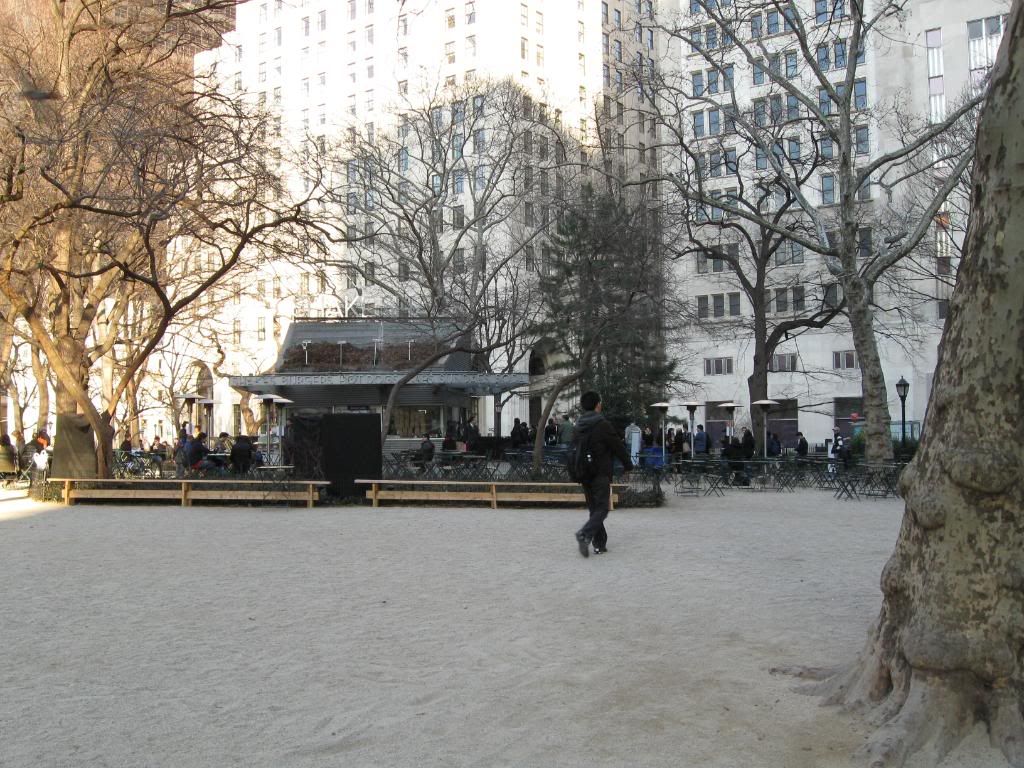 For The Shake Shack, yes, this does count as a small group of people.
Upon closer examination, it was indeed open.
Closer examination:
As I stepped back from the rear of the line to take this picture, that man with the dog got in line in front of me. Hmmm... I can't blame him.
And so I got in line. IN line. I waited IN line to place my order. I am currently ONline writing this post. I am using the internet. I am ONline.
Sorry.
So the minutes ticked past and a small voice nagged inside my head. It was trying to tell me something. Finally it clicked, and I remembered that the small voice belonged to a small person, Woot. She had mentioned that The Shake Shack offered special flavors of shake. This sentiment was echoed by the Gothamist. I looked to the board that announced which day carried which flavor, and my heart nearly shat itself.
Peppermint Patty.
The Shake Shack offers a Peppermint Patty Frozen Custard based shake on Tuesdays in March, including Tuesday, March 17, the Feast Day of
Naomh Pádraig
.
"Yo, snakes. Get your slithery asses outta here and bring me a damn mint shake. Amen."
Time immediately hit the brakes. The seconds ticked by hours apart. The line moved slower than a group of fat tourists in Times Square.
Another detail of Shake Shack. There exist two lines. The A line is for general purpose ordering- shakes, food, custard and everything else. The B line acts as a sort of pressure valve, letting people who just want to order custard and drinks and other items that can be prepared quickly to get out of the way and keep the line from wrapping all the way around the park. Seriously.
Given the small number of people, both the A and the B line were taking all orders. I got waved over to the B line when it was finally, finally, at long last finally my turn to order.
Scene.
Me: Hello, I would like a peppermint patty shake, please.
Counter Attendant: Oh, Ummm...
(Hesitation. Panic! OhJesusno. What could the problem be?)
Me: Oh, I'm sorry, do I have to be in the A line to order shakes?
(pleasepleasepleasepleaseplease)
CA: No, I can take care of you here, I just don't know if we have any more of those.
Me: Oh, that's not good.
(Not good in the I'm too pretty for jail way, and also the I will burn this place to the ground with the savagely beaten man-with-dog who cut me in line still locked inside way.)
CA: Let me check, hang on.
Me: Will do.
(Mental inventory of potential weaponry: keys, belt, flashlight, cell phone charger/garrote wire, skeletal assemblage of man and dog.)
CA: Good News, it looks like you're going to get the very last one!
Me: Boo-Yah!
(Boo-Yah.)
and scene.
I paid my money, and he gave me my reciept and a pager that will blink and vibrate when my order is ready. I accepted it acting as though I would not be perched on top of the serving counter itself, glaring at the employees for the entirety of the shake preparation.
My birthday: 3/13 My personal "lucky numbers": 3 and 13.
My pager:
And yes, that is the price of one shake.
So now came the second waiting period, which was better and worse than the first. Better because I knew I had secured one, and that everyone in line behind me hadn't. Worse because I'm so close, please don't let anything happen now.
The pager jumped and started beeping and shakin' and I wet myself a little. Then I went on up to the shack.
The man behind the counter handed me my shake. And Saints preserve us, it was green! Green and minty and beautiful.
I think I'm going to enjoy this...
And I was right. Pure bliss in Mint Frozen Custard Form. Absolutely perfect and completely decadent, with just a hint of schadenfreude at the end for all those poor mintless bastards behind me.
More importantly, despite McDonald's best efforts, I found and enjoyed a green mint shake on St. Patrick's Day.
You hear that, Clown?
I win, McDonalds.
I WIN.
Hope all your St. Pat's were as memorable, if not moreso. Take it easy babies.
Love,
Rev
PS - Subastar did call me and I met with her and Woot and another shortly after getting the shake. In fact, she took this picture:
Total victory.