Baron Mind
has not been selected for the
Evil League of Evil
.
Well, let's look on the bright side. Now there's no reason for anyone to buy that DVD. Ever.
Maybe I'm straying a little close to bitter, but that's more fun than taking everything in good humor. I'm not mad at the producers of the DVD, and I congratulate those that actually made it, with a few exceptions, of course.
Rest assured, however, that you have not seen the last of Baron Mind.
Pissed off, confused, or sun in my eyes?
Not one to let these minor setbacks dissuade him, he is already pursuing his second dream of hosting his own Food Network Television show.
in case you are bad at scrolling, you can see that attempt
HERE
.
So yeah, there's a slight disappointment that our work didn't end up on the DVD, but it was a blast to make, got some sweet press, and was viewed just shy of 5,000 times (13 shy, actually, but who's counting?)
Now assuming 4,000 of those were either Oach or myself, that's still a decent amount of people tuning in to see the nonsense that springs from our heads when we let it. Even more than the people that come here to read such nonsense.
Yes, I'm talking about you.
Right there.
So thank you everyone, for your support and encouragement. I encourage you to storm the Interzone message boards. It would be great if you could cause a fuss about why we weren't selected, and disparage other videos entered in the contest. Because if I did it, it would just be poor sportsmanship.
"Fury of Solace Sucks!"
But really, to be proactive about the Baron, you should head over to the
youtube cooking video
and rate it and add comments and such.
That's the one that's still in contention (theoretically) to win a prize. Though I am a bit skeptical about how enthusiastic Kraft Foods will be about our special topping...
Watch the video if you dont' understand what I mean, and yes, it's both less and more terrible than what you immediately thought.
So yes, go to the youtube page and shower the videos with praise and then come to my apartment and just shower me.
Seriously, I've been on the couch all weekend, and I'm getting pretty ripe.
I've been hitting the chocolate chips again, too. I doubt there's a wagon for baking ingredient addiction, but man, did I fall off of it.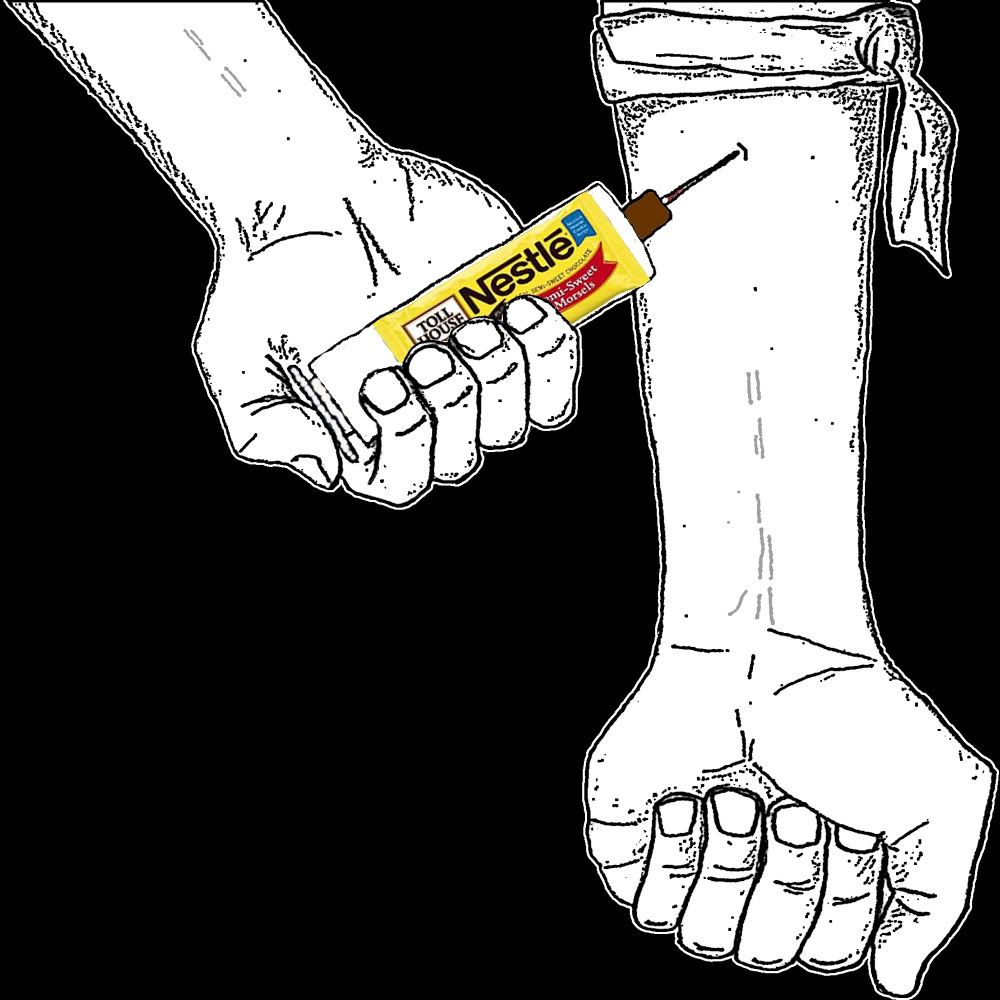 Mmmm... yeah... I love me some photoshop.
Ok, Catch you folks later
Rev out.