Over the past few days, there has been a whole lot of hulabaloo made over the death of Paul Newman. And I've been trying to figure out why.
I sat down and gave it plenty of thought, and came to a single, inevitable conclusion:
He was one of the fucking awesomest people ever.
Paul Newman was no mere Movie Star. As I have mentioned before, I think of Paul Newman as the founder of contemporary cool. He was cinematic royalty and a class act. Just a little bit of trivia before I really start gushing.
Paul Newman was nominated for a total of ten Oscars over five decades. After not winning the statue 7 times, he was awarded an honorary Oscar in 1986. Not one to accept charity or pity, the next year Newman won the Best Leading Actor Oscar for The Color of Money.
Kiss my ass, honorary statue.
In 1954, Newman appeared in the film the Silver Chalice. For the rest of his life he remained embittered and embarrassed regarding his role in that film. Rather than just bitch about like a diva, Newman took out a full page ad in Variety apologizing for his performance in the movie.
Why the Hell did I agree to do this?
Now that is true class. I, for one, would certainly like to see that sort of apology a whole lot more these days.
I have more, but I'm getting sidetracked.
For more trivia on Paul Newman, check out his
IMDB page
.
But really, I can't understate the level of wonderfulness of many fantastic roles that he brought to life through the years.
Butch Cassidy
Fast Eddie Felson in The Hustler and The Color of Money
Cool Hand Luke Jackson
Henry Gondorff in The Sting
Reg Dunlop in Slapshot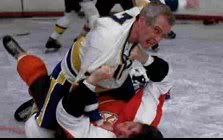 Slapshot holds a special place in my heart as parts of it were filmed in the Utica Memorial Auditorium.
Any of the above films I can, watch multiple times without coming close to getting bored of them. Trust me, I have seen all of them at least twice. I didn't even touch on the great movies he made later on in his career, like Empire Falls, Nobody's Fool and The Road to Perdition (another Oscar nomination).
You want so much coolness your head explodes? Try this on for size:
The combined coolness of Paul Newman and Steve McQueen as well as seeing Robert Wagner burning to death. Who could ask for anything more?
Basically, go watch all these movies and then think about the fact that the man responsible for them no longer walks on the earth that he helped to make that much more beautiful.
It's ok to cry.
So goodbye, Mr. Newman. Thank you for your talent and work. Also, I hope you appreciate my restraint in not telling any salad dressing jokes.
Love,
Rev