Well I suppose it was guaranteed to happen, now that I'm approaching my second anniversary of living in either New York City or its ridiculous pretend-borough landfill.
I was bound to begin repeating myself, and this weekend I went to the Von Steuben parade again.
You may remember
my post from last year
, or you may not. The details are a bit fuzzy to me, too.
This year though, I did not go alone. I was accompanied to the parade by McG, and to the beer garden parade after-party by McG and Oach.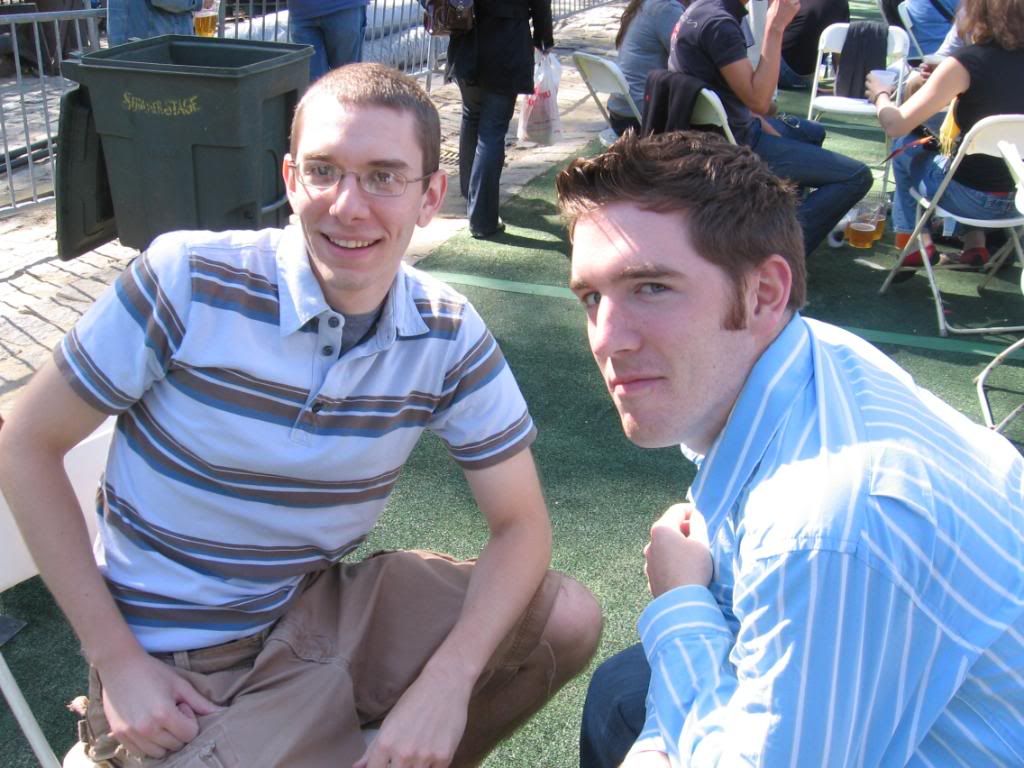 The parade was fun, and the weather was gorgeous. I took a bunch of pictures, but I won't be posting many of them because they look fairly identical to those from last year.
Except for this. This is different.
The beer garden party thing in Central Park had some fundamental flaws in its organization. First off, the space quickly filled up to standing room only. McG and I (thanks to some maneuvering and strategic New Yorker arguing) got there early and snagged some folding chairs while the getting was good, and so the three of us were fairly comfortable, until crowded on all sides by envious, chairless wastrels.
Suckas.
Before the crowd got crazy, McG and I went for the food. More signs of bad things to come. The large woman behind the table was looking extremely harried and stressed while filling my order for Bratwurst. I worried for her, because if she was freaking out to that level with only two people in line, then her head would probably explode once the rest of the thousands got there.
The cramped accommodations were not improved by the choice of performers. I was pumped to see some German Oom-Pah bands with their lederhosen and toasts and yahooing and alpine horns and such. Instead, I was subjected to smooth jazz.
Don't get me wrong, in a dark little club with candles on the table late at night, that would be fantastic. But it was 2:00 in the afternoon on a beautiful, sunny day. The band made me want to take a nap, when it should have been inspiring me to drink beer and do a silly slapping dance.
That's
what I wanted.
When it looked as though the jazz band was finished, my hope rose. And were quickly dashed as an Elvis impersonator mounted the stage.
Appeared on stage, I should say. That other phrasing might have actually been entertaining.
Finally, it became too much and our trio set out for some other entertainment, much to the cheers and high-fiving of three formerly chairless individuals nearby.
We took a brief walk to the boat pond, where we met up with the greatest street performers in the City: Song Camp.
Yes, they're way better than that old asian guy at the Whitehall station with the banhu, who seems just as baffled by the sounds he's making as everyone else is. He is a beggar. They are musicians.
Banhu.
But in all seriousness, the next weekend you're in Central Park, make it a point to find them. You'll not be sorry. I'm proud to say I was a part of the creative process, as the benches at which they usually play were occupied. One was taken by a girl reading the last few chapters of Zadie Smith's White Teeth. That book was written by a rather young author and is actually quite good. In that way, it is very much dissimilar to anything by Christopher Paolini, against whom I still harbor a burning literary hatred, and whose latest derivative piece of crap was released four days ago.
The other bench was taken by a fat man sailing a toy boat.
McG and I focused on trying to get the boatman to move, most notably by "accidentally" blocking his sightline of his boat. He was an experienced captain, however, and sailed it slightly to the left, reestablishing visual contact and thwarting our poorly planned and executed attempt.
Oach and Song Camp remained near the reading girl, carrying on a louder-than-necessary conversation about how nice it would be to take a walk around the pond.
Ultimately, the girl caved first, though the boatman wasn't far behind, and we had more benches than we knew what to do with.
That's not true.
We sat on them.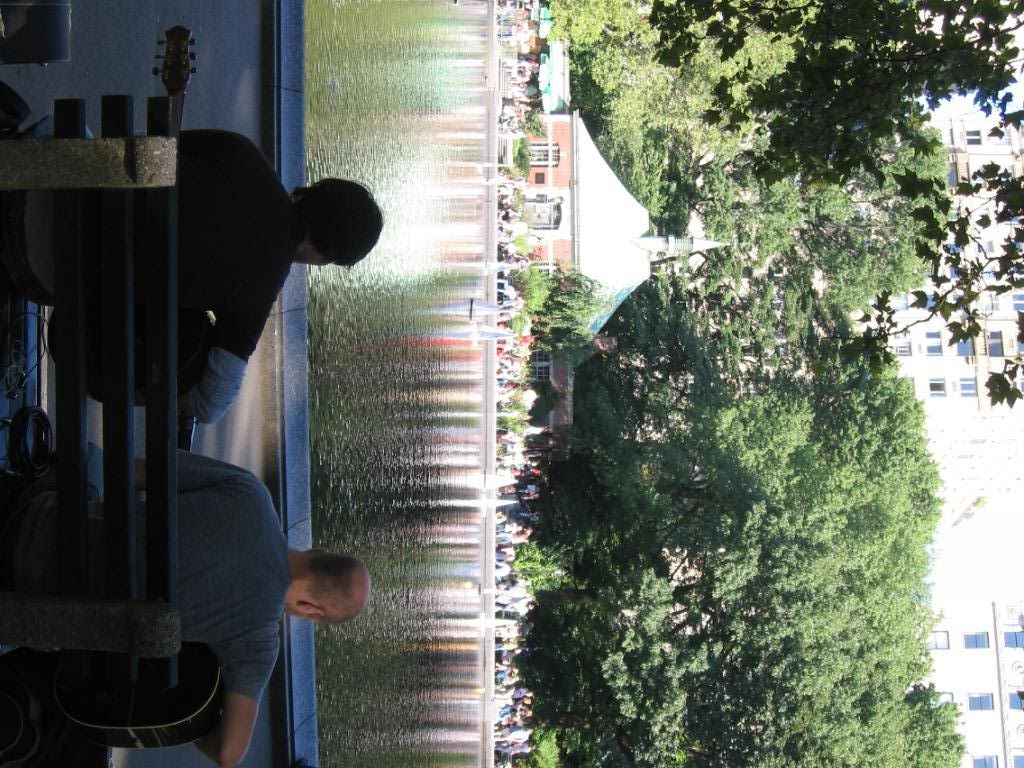 For a sampling of the music I enjoyed for the remainder of my afternoon check out Song Camp's site
here
.
All for now,
Rev
Note: I have not been paid to promote Song Camp, though I wish I had been.