Hi folks,
It's been a while since I've shown my own photos on the blog, instead preferring to find silly pictures and Microsoft Paint creations that serve little purpose but to add to what I imagine is a giant file of questionable google searches compiled by some poor IT watchman at my place of employ.
Like that.
I've decided, therefore, to focus on what I did this past weekend. Oach and I had guests stay with us, as we often do. Our apartment, being situated as it is in the wilds of Astoria, makes it a convenient stop-over for friends, family, acquaintences and grifters who are visiting the city. We run a pretty good flophouse, I guess is the right word.
This weekend it was Zippy and Kaz, pictured here:
Note: They're the ones looking up. Though I admit, the guy in the foreground looks like he could be a Zippy.
Kaz and Zippy are old college chums of mine and Oach's. They were on their way to Greece to take a cruise around the islands there, and stayed with us as a pre-vacation warm up, I suppose. I was pretty jealous of them, but managed to feel better by subjecting them to my China slideshow. Suckas.
As NYC savvy readers may recognize, this picture was taken at Rockefeller Center, a good tourist stop for any visit, especially in winter, when you can watch people fall down in the skating rink. It is endless fun. However, no skating was to be had in the middle of August so we busied ourselves with looking up at 30 Rock.
After that we galavanted around FAO Schwartz, though I'm sorry to report I neglected to take photos there. Zippy has a pretty good one of me trying on a Harry Potter Sorting Hat. It didn't talk at all, so it must have been a defective one. That's ok, I know to which house I belong anyway.
No matter how many disagreements Harry Potter fans have, we can all agree that Hufflepuff sucks.
After that little adventure, it was off to a long subway ride which took us to Coney Island! Woo hoo!
I had never been to Coney Island, despite living in Queens for 13 months and in Staten Island for some time before that. Hey, I just realized something.
New York City : Staten Island :: Hogwarts : Hufflepuff
Neat. I <3 href="http://i154.photobucket.com/albums/s259/TheRevSpecial/IMG_0627.jpg">
It's prettier at night, but that's true for a lot of things in Brooklyn.
Kaz and Zippy had been hoping to see a Mets game, but they were on the road. As a substitute, they procured tickets to a Brooklyn Cyclones game. Here's where the narrative breaks down.
The tickets clearly said the game was to start at 6:00 PM. However, due to rains, they turned the night into a double-header and started the game at 5:00 PM. That's fine, but we had no way of knowing that, and it was Free Visor Night.
Needless to say, by the time we got there at 6:00, all the visors were gone. We were pretty bitter about the whole experience, and felt betrayed by Brooklyn. Even with that great disappointment, it is still my third favorite borough. The game moved at a snail's pace. I mean, it was slow even by baseball standards.

This is actually a video.
Thankfully, us visorless fans found ways to amuse ourselves, even in the blinding, non-visor-obstructed sunlight.
We quickly fell upon the children's games section of the baseball programme. Having disposed of the actual games quite rapidly, the next logical step was to find words in the word search puzzle that were not intended to be there, and also to map every possible way of solving the maze.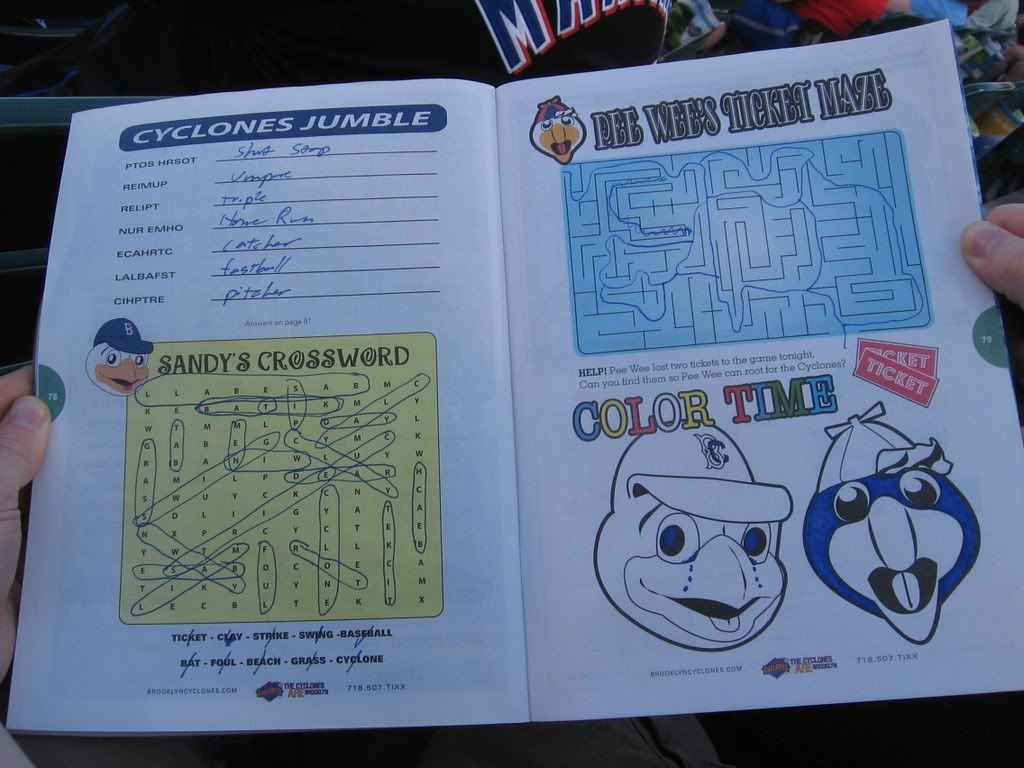 Call me old-fashioned, but mazes shouldn't have that many options. Now there may be those of differing opinion, and I respect that. I'm just saying, if all mazes were this easy, then Danny Torrance would have been in a world of shit.
I am awarding myself bonus points for the double Kubrick reference.
+ 10
At any rate, the game raged (limped) on, and the Cyclones lost. Or maybe they won. Who knows? At any rate, we didn't stick around for the second game.
Afterwards we wandered around for a little bit, as I was bent on finding and eating frozen custard. The joke was on me, for although Coney Island created that refreshing miracle, it no longer plays host to it. What the Hell, Coney Island?
Our wandering was not in vain, however. While it's true we did not find any frozen custard, we did find the 'Shoot the Freak' Game.
Sorry this picture is dark, but well... it was getting dark out.
Basically the booth is self-explanatory. There is a guy in pads who is, ostensibly, the "Freak." He runs around downrange of a bank of paintball guns. You (I) pay money for an amount of paintballs which you (I) then use to shoot the freak. There are no prizes, except for the satisfaction felt when you pelt that freakin' freak, and hope he feels it.
My name is Rev, and I approve of sadism.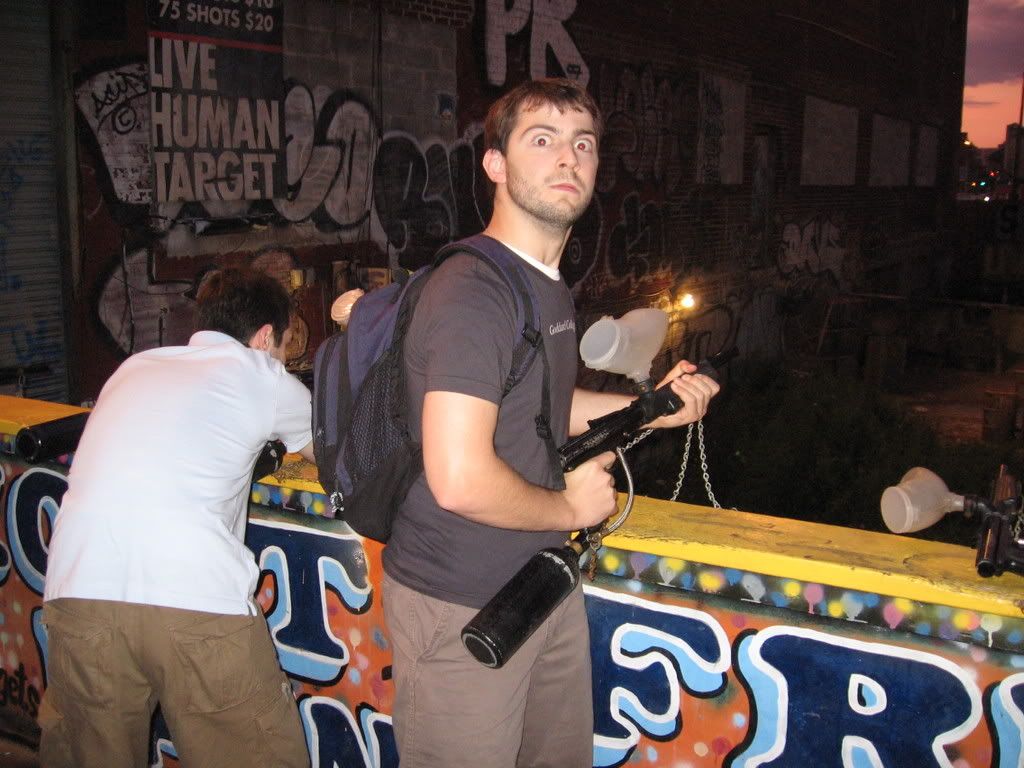 "SO DO I!!!!!!!"


Kaz managed to pop the freak in the face mask twice. Compounding my disappointment in Coney Island is the fact that my gun managed to explode the paintball immediately upon exiting the barrel. Of the 15 shots I had, about 6 actually made it downrange without spattering. Of those, 3 hit his shield, one or two went wide, but one found its way home.
By home, of course, I mean the nads. That single crotch shot was completely worth the price of admission.
Ok, Oach's mother is visiting now, so I'm going to wrap this up and go get some dinner. In summary, Bon Voyage, Kaz and Zippy. Enjoy your cruise. Everyone else, I'll catch you later.
Rev
PS - has anyone else noticed this?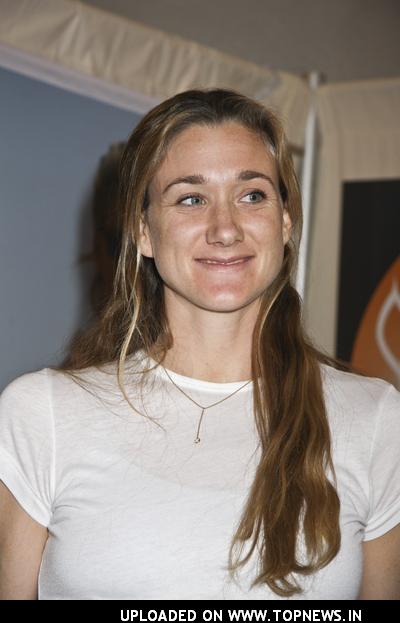 Two time Olympic Gold Medalist in Beach Volleyball Kerri Walsh.
Star of X-Men 3 and actor of note Ben Foster.
I hope he plays her in the movie of the Beijing Olympic Beach Volleyball saga, entitled 'Red Sand.'