Hello Children, hello. Are you prepared? Then let's begin.
I'm here to tell you all about my recent adventure with Easter. Those of you who are long-term readers of this blog may have seen my post last year about the 5th Avenue Easter Parade. You may also want to find something better to occupy your valuable internet time. I highly recommend
LOLcats
:
Brilliant.
But to recap that entry, I went to Church on Easter Sunday 2007, then went wandering about 5th Ave, where I stumbled upon the largest silly hat party I had ever seen: The Easter Parade.
Yes, I showed this poster back then, too.
Regardless, there are few things I enjoy in this life more than a silly hat. I think everyone should wear one at least once a month, not just on Jesusday.
I made myself a promise not to be caught silly hatless the next year. Thankfully, Oach is as fond of silly hats as I am, so I was not alone in my endeavors.
We made a supply run on Saturday to buy thrift store hats and drastically discounted K-mart Easter decor, glue and thin gauge wire. I also had a run-in with an overly-enthusiastic and overly friendly fabric store clerk, who gave me a hard time about cutting my own ribbon, and then seemed awed by the fact that, without measuring, I had cut precisely four yards. He shouldn't have been so impressed, because it turns out I only needed three. Not to be outdone, Oach mildly defrauded the aforementioned thrift store so as to achieve a satisfactory mutually profitable transaction.
We returned to the apartment, where a flurry of bad movies, beer drinking and fevered haberdashery ensued.
By now you've realized that I'm simply prolonging the suspense before I unveil our creations. These two sentences do much the same. Finally, Sunday morning, after a bout of fitful excited sleep, we were ready for a day on the town. Dressed in our finest, we stepped out into the sun.
We wore our hats with pride. All the way from the apartment to the subway station, people were smiling and laughing and giving us thumbs-up and honking as they drove by. Do you see the power of the silly hat? Rather, a pair of silly hats, as happened to be the case.
But really, how could you not be happy when confronted with these two handsome gentlemen?
From left: Rev, Oach, Narcoleptic German Tourist
What hats! Enhance.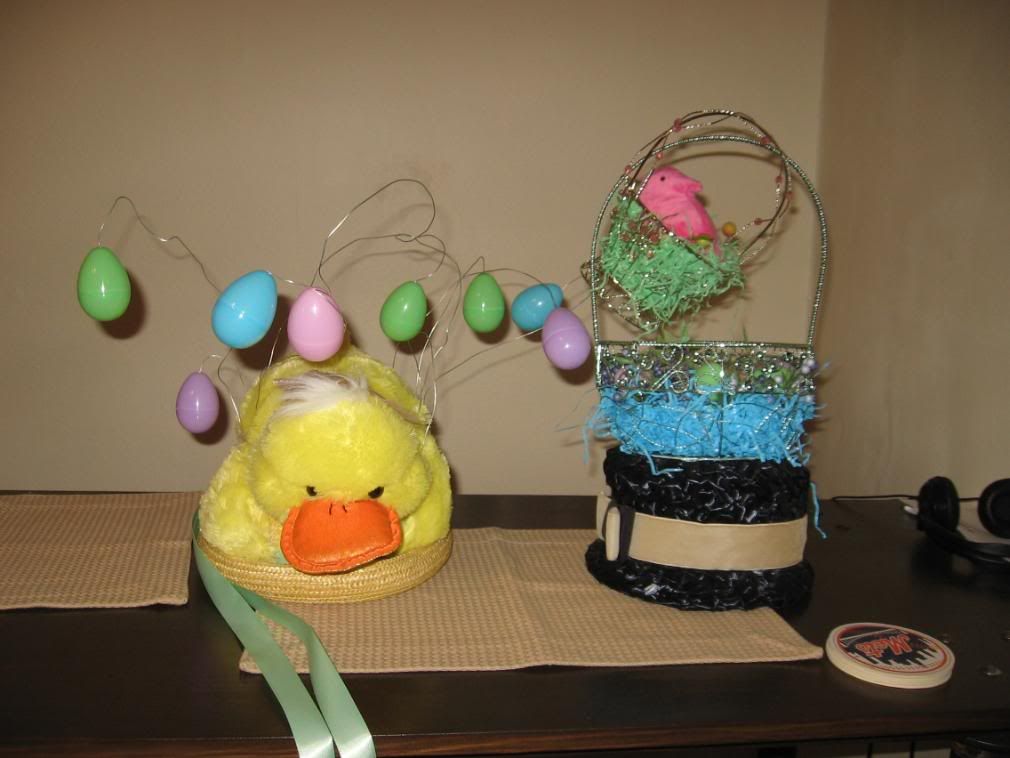 That's Mrs. Peep perched atop Oach's hat. The duck has no name. At least, none that he's told me.
Back to some action shots: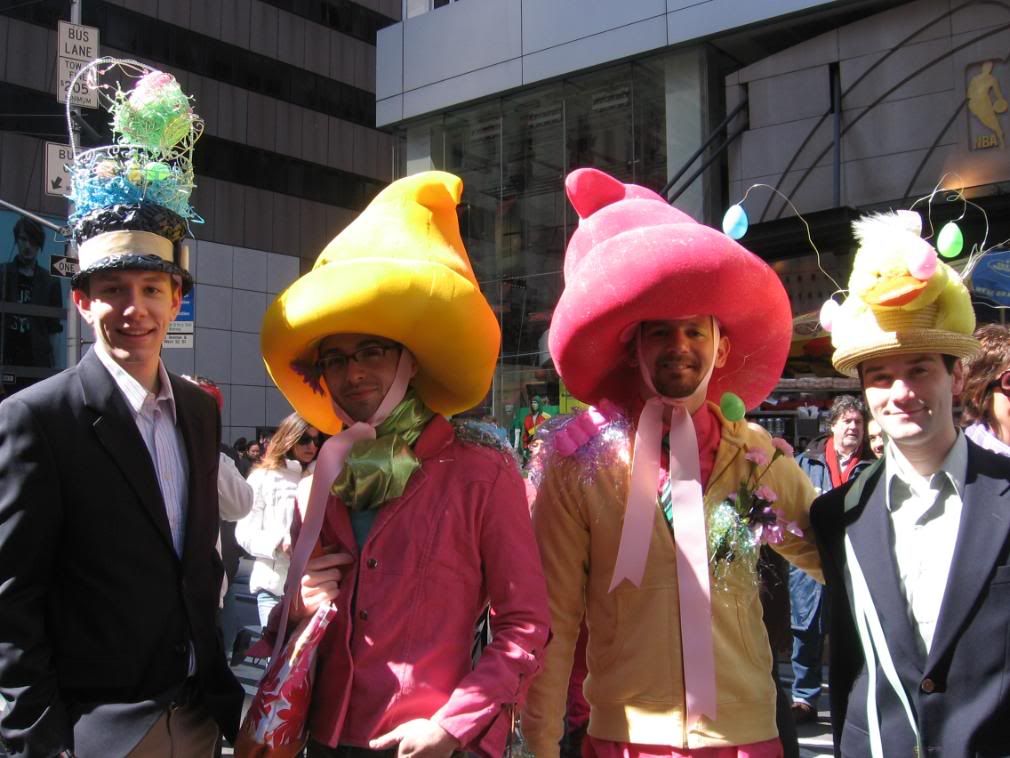 Hangin' with some peeps.
Riding the subway presented a huge number of obstacles.
I found this picture on flickr.com. Oach looks like he's about to stab me.
My favorite is from a pause we took at Rockefeller Center:
Top Three things:
1) handsome young man, center
2) fallen child on the ice, left
3) skating easter bunny, left
Ok, that's all for part one. Next time I'll be presenting some "Do's and Do Not Do's" of Easter Parade silly hatness.
Catch you folks later,
Rev