Hello everybody,
So yeah... what's a month between friends? Right? Am I right? Eh, whatever.
Just so's you know I now have internet access at my apartment so I can get back to a regular bloggy schedule. Much has happened since last I typed, and I'm not sure I can even begin to recount all of it. I've largely forgotten how it feels to blog.
Well, one thing I did was go to my first Major League Baseball game. It was at Yankee Stadium, and was back when the Yanks crushed the Angels 12-0. This is what the game looked like from my perspective: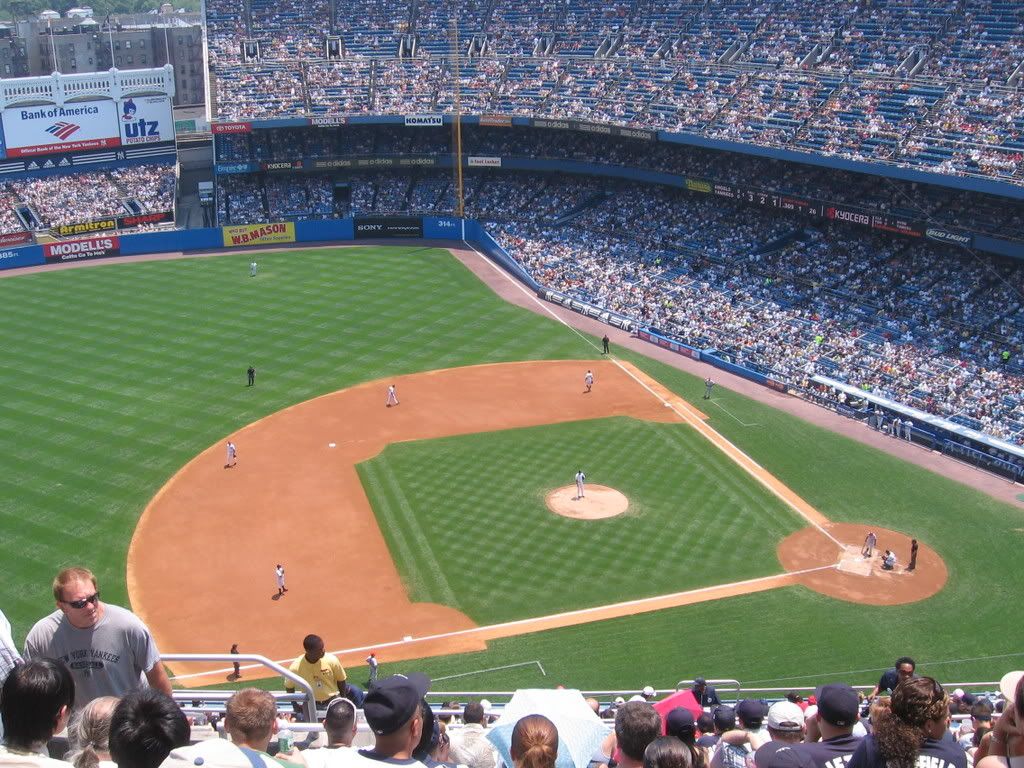 the nosebleed and sunburn section.
I still had a great time, even including a rather confusing conversation I had with a vendor. It went something like this:
Vendor: (walking) Beer here! Get your beer!
Me: (raising hand) Beer!
Vendor: Who wants a beer?
Me: (maintaining raised status of hand) Beer!
Vendor: Can't serve you, man
Me: (hand droops slightly) Beer?
Vendor: Sorry! Beer here!
Me: Umm... I'm 24
Vendor: Yeah, but you're in a non-alcoholic seating section.
Me: Wha?
Vendor: Of course, if you were in an alcoholic section and then moved, what could I do about it?
Me: hmm... (moves three steps to the left) what about now?
Vendor: Hello, sir, would you like a beer?
Me: Why yes, thank you my good man.
Vendor: (pours beer) That'll be 7 billion dollars.
And SCENE
I praise both Yankee Stadium's salute to responsible behavior, and the giant loopholes written into it.
Approximately two weeks after that I went to my second Major League Baseball game. This one at Shea Stadium. The tickets were a bit better. The game was not. Mets lost, 8-4. The view from my seat looked like this: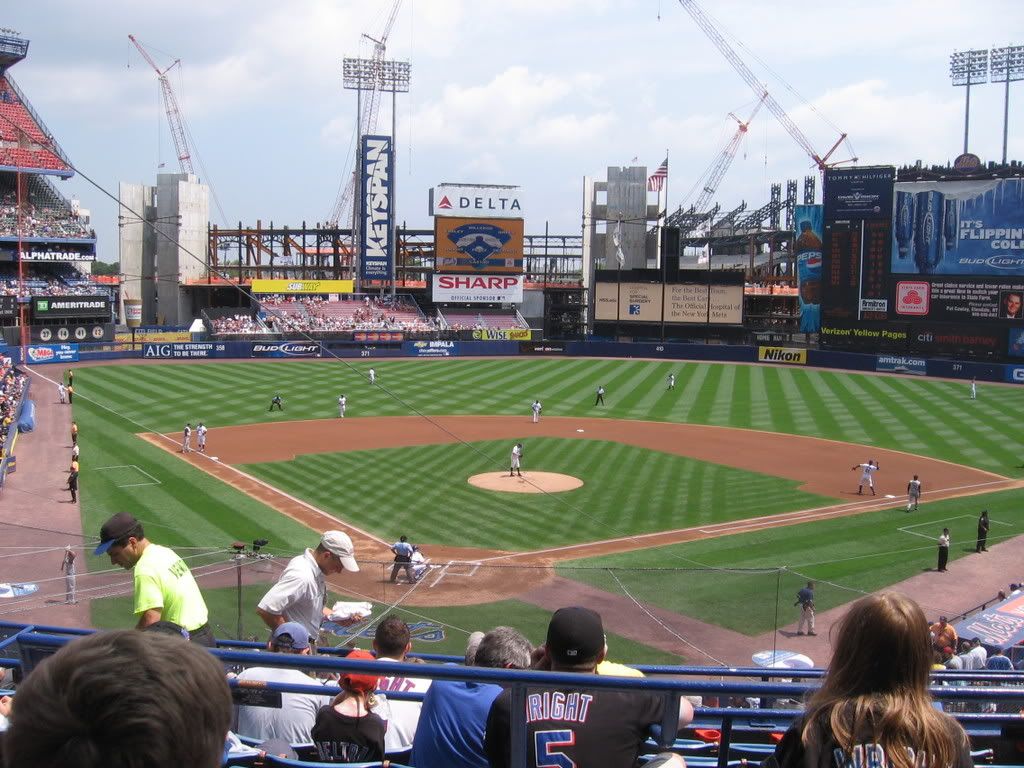 The only thing nosebleed about these seats was the danger that a foul ball would hop over the netting and scatter your teeth like the ghost of Henry Hudson would scatter a set of ninepins.
Anyone? Anyone?
(sigh)
Moving right along. Oh yes, good news for those of you still holding out hope for human evolution! My brother's wife is pregnant! Hooray! I'm going to be somebody's weird uncle Rev!
I'll probably wrap this up soon, but other things that happened to me that you can probably expect a blog about include:
- Herkimer, NY's Great American Irish Festival!
- A friend's Bachelor Party!
- The release and reading of the final Harry Potter book ( or: small-child-nightmare-generator)!
- Two fresh new zombie dreams!
- And, more horrifying than the two zombie dreams put together, the Transformers movie!
There's a lot to cover... the suspense is terrible; I hope it lasts.
Rev