I may never get tired of going to parades. In addition, I may never get tired of making fun of places I live or have lived.
This week, I had the distinct honor of attending the Whitestown Memorial Day Parade 2007. I, a proud graduate of Whitesboro High School, was thrilled to watch this yearly display, though I did kick myself for not going to the annual St. Paul's Bazaar that took place the prior weekend. Oh, memories...
Anyhow, the parade was enjoying some lovely weather, and I saw the usual sights. A lot of shriners, a few veterans... and then came the Clowns.
Ok, I don't really like the clowns, but I'll give them credit: that is one sweet ride. Sadly, I think there was only one occupant of the car. I could be mistaken, as they didn't really stop and run around in front of me.
Also, I knew we would meet again someday, since our first encounter a week prior to St. Pat's: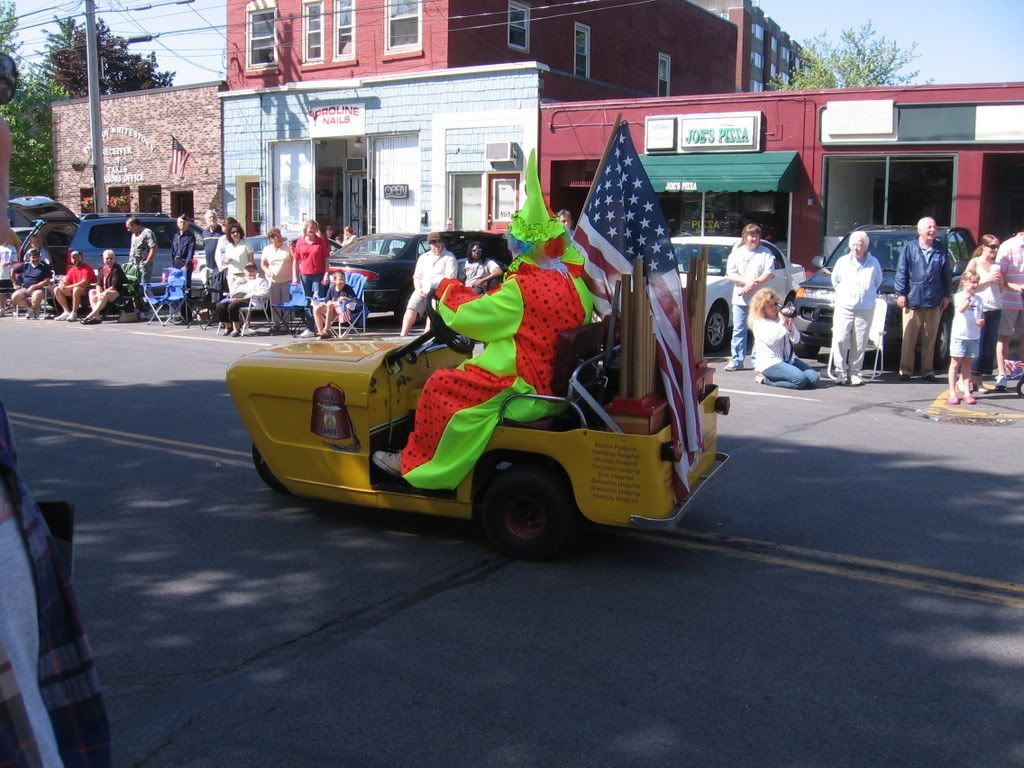 Neon Clown. You bastard.
Now I don't want to give the impression that the entire parade was just clowns and silliness. It also had this:
The Mohawk Valley Pug Club.
The Mohawk Valley Pug Club.
That wasn't a typo. I really wanted to say it twice. This group of proud pug owners and pug enthusiasts not only meets to discuss the trials and tribulations of pug ownership and enthusiasm, they organize and march in parades. I can only assume that the pugs themselves do not get to vote in the proceedings.
Ladies and Gentlemen, I give you
The Mohawk Valley Pug Club
.
And finally I'll close with a little more information about Whitestown, and Whitesboro (to this day, I'm not 100% sure on the distinction between the two). Whenever I describe the town seal to people, they do not believe me. I'm here to set the record straight.
This sign is in front of the town hall on Main Street in Whitestown.
Just in case some of you aren't paying attention, or have poor eyesight, let me zoom in on that for you:
No, you're not seeing things, and I am not a master of photoshop. The seal of the Village of WHITEsboro is a WHITE SETTLER (village founder Hugh White) STRANGLING AN INDIAN.
This is real, everyone.
The Whitesboro Department of Revisionist History explains it thusly: "The wrestling match was an important event in the history of the settling of the Village of Whitesboro and helped foster good relations between White and the Indians."
Now before you go jumping to conclusions, the seal used to be worse. In 1977 the seal was redesigned so that Hugh White's hands are on the Indian's shoulders and no longer on his throat.
I think we can all agree that this new version eliminates any sort of racist imagery involved (sarcasm).
Rev
PS: The Whitesboro mascot is the Warriors, another fantastic Native American stereotype.
PPS: I met a perfectly lovely dog yesterday, her name is Maya and she barked at me for a while, but soon enough calmed down and was only extremely wary of me. She looks like this:
Good Girl, Maya.